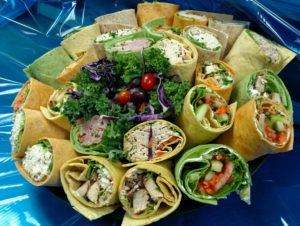 Over sized tortillas stuffed with some of our favorites like The Flaming Amy, Sunshine Superwomen, Blonde Bomb, Caesar's Chicken, Bob's Burrito and normal stuff too!
Buffalo Betty: Our zesty blackened chicken with vibrant shredded carrots, lettuce, real blue cheese, and our flamboyant hot sauce.
The Flaming Amy: Homemade hellish hummus, black olives, lettuce, salsa, cool cucumbers, and frenzy balsamic vinaigrette.
Sunshine Superwoman: Loaded with fresh veggies, hellish hummus, and topped with frenzy balsamic vinaigrette.
Sunshine Superman: All in all just like a woman but without hummus, covered in herb cheese & sunflower seeds.
Blonde Bomb: Our zesty blackened chicken, crisp bacon, southwestern roasted peppers & onions, smothered in classic ranch dressing.
Caesar Wrap: Like our Caesar salad, without croutons but, with zesty blackened chicken, salsa and fresh grated Romano cheese
Burrito Bob: Sounds boring but very tasty, homemade chicken salad, with lettuce, salsa, American cheese, & our own honey Dijon dressing.
West Coast Melt: Think basil & tomato mayo with tender turkey, crisp bacon on a bed of fresh greens.